In Memory of Gretchen (aka "Gerber")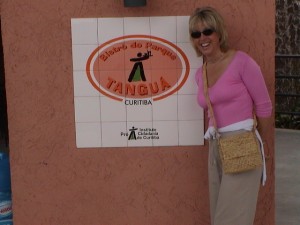 People often wonder why we have chosen to put our "normal" life on hold and take what looks to be an unorthodox direction for a family. Although we have what most may consider a great life having lived in many great neighborhoods (7 moves in 12 years including 3 wonderful years in Brazil), terrific friends and neighbors, more than 20 years in corporate life etc., something was still missing.
A turning point came 3 years ago when we received news that Sallie's sister Gretchen was diagnosed with lung cancer at 42, even though she was a non-smoker. After aggressive treatment, we lost her in less than 6 months. In everyone's eyes, Gretchen was living the ideal life: a caring wife and mother, married to Kurt who is a great dad and entrepreneur, three wonderful boys Ryan, Weston and Kyle, a wonderful sister and good friend to many special people, a great sense of humor, a Newport Beach beauty queen, college cheerleader, and on an on. Even with all this, her time on this earth was not in her hands. The lesson Gretchen provided our family is that time is precious and we are all responsible to make the most out of every day. It is up to each of us to pursue our dreams and turn them into reality.
So for Sallie and me, the most important agenda we have at this moment in life is to spend time with our three kids.  We want to leave them with unforgettable memories that will last a lifetime. I have always thought that when you have kids, you have about 10 good years with them – from the time they are 3 and start to understand what you are teaching them, to the time they are about 13 and want to spend more time with their friends than their parents. Our kids are now 8, 10 and 12 so our window is getting smaller and it's time to head out and create the Miura Family adventure!!!
We are dedicating this adventure to Gretchen and all the wonderful memories she has left with us.  She is foever in our hearts. 
"The family is one of nature's masterpieces".  George Santayana