Who RV?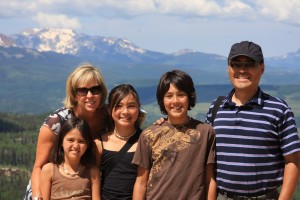 Hello there,
We are the Miura Family. . .Ken "Dad", Sallie "Mom", Andrew – 12, Nikki – 10, Lauren "Poohnut" – 8 and Hobie the Golden Retriever!  Welcome to our new website!  We look forward to sharing with you what hopes to be a great memory building roadtrip across America and beyond! 
This is our first website so please be patient as we work out the bugs.  We welcome your comments!  By subscribing to our website, you will then follow along with us on our journey of discovery.  If you wish to contact us directly, please do so at miurafamily@yahoo.com
Please keep us updated on what's happening in your lives too.  We hope to see many family members and friends during our two year trek.  Thank you to everyone for your support and words of encouragement!  We may be a bit crazy but we hope to look back when we are in our 90s with no regrets! 
See you on the road. . .
"The really happy person is one who can enjoy the scenery when on a detour".  Unknown