Posted by
whalerho

| Posted in Uncategorized | Posted on 30-09-2009
We were sad to leave Alice Lake as it was so peaceful and we knew we were in for a city experience.  After being in the "bush" for so long, we hoped we would acclimate to a city with all its people without incident!  The girls and I continued to follow the RV and when Ken took a right instead of a left turn, we were suddenly thrust into the heart of  Vancouver. I mean the downtown CITY of Vancouver.  The girls and I almost fell out of the van when we saw Ken head towards the lights of the city.  I kept telling Nikki to take pictures as I knew our Canadian friends would never believe we took this busy route.  Alas, Ken is an amazing driver (he must have been a 26 wheel driver in another life) and we made it through the city (and all the people and cars and, did I mention, people?) unscathed.  We arrived in the historic town of Fort Langley (birthplace of British Columbia) and found a wonderful Regional Park along the Fraser River.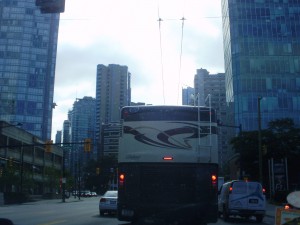 On Friday, we took a two hour (each way) ferry ride to Nanaimo on Vancouver Island.  We were so impressed with the ferry as it was akin to a mini cruise ship.  The seats were comfy and there was full food service.  We sat with great views, reading magazines, playing cards and walking along the upper deck.  The weather was still warm and sunny so it make the ride that much more enjoyable.  We disembarked the ferry and met up with Larry, a good friend we met in Mexico last winter.  He drove us to the marina where we joined up with his wife Kim and their son Mitch.  They treated us to a wonderful lunch along the water.  It's so great to meet a couple who enjoy life to the fullest and have dreams.  We are looking forward to meeting up with them again in Mazatlan this winter.
On Saturday, we spent the day in the city of Vancouver.  The girls and I got dressed up as we were ready to spend the day shopping and "doing lunch".   The boys goal was to find some great places (multiple) to eat!   Nikki, Lauren and I walked down Robson Street (think Rodeo Drive), window shopped and then actually bought a few things at Sears no less!  When we watched in, we could not believe it was a Sears!  It had the most amazing cosmetic area that one would have thought they were in Bloomingdales.  The girls bought some "skinny jeans" and we were on our way to lunch!  (They hoped the jeans would still fit after lunch!)  Meanwhile, Ken and Andrew went throughout the town looking for interesting food places.  They found some Mediterranean food and then followed it with some authentic Canadian food  of fries with gravy and cheese curds.   Their dessert was a smoothie with boba (tapioca balls).  The girls and I ate  a much more "she-she" lunch and had some yummy crepes.  (Well Poohnut had pizza but it was at the crepe place). 
Following our city experience, we all changed our clothes and prepped for a bike ride around Stanley Park.  This park is a must see and we now know why.  It reminded us of Golden Gate Park in San Fran and Central Park in NYC.  Our bikeride started out smoothly as we rode alongside the marina.  After about 30 minutes, we made a turn and merged onto the bike path along the open ocean.  The wind was gusty and the swells were at least five feet with big white caps.    It was quite exciting and a real effort to keep riding our bikes.  Poohnut was quite exhausted at this point.  Nikki ended up with a flat tire (I swear her 6ththis month!) so I insisted Ken and the other two kids continue riding.  I would walk with Nikki and we would simply meet  up with them at the starting point.  "Simply"was a word I should have not used so loosely.  Nikki and I were on the pedestrian portion of the park and the route continued on and out of the park, much to our ignorance.  At  one point, I asked a gentleman if we were still in Stanley Park.  I fully assumed him to say "YES!".   His actually response was something akin to  "Heck no!  You are about 6 KM from the park!"  UGH!!  How did that happen!  Well, I hate to admit it (as I was a girl scout for a couple years)but it got worse from there.  We were lost and there was no family in sight.  Nikki and I continued walking and walking and actually made it to the place where we all separated.  What a lot of effort for NO reward!!  FINALLY, Andrew ( my HERO!) found us and we reunited with our beloved family.  Poohnutwas quite happy and Ken, while happy, was still somewhat bugged that he ever agreed to  separating.  I think we will stay close like an amoeba until death do us part.  (Or Ken will buy me a GPS for Christmas.)
We camped at a wonderful Regional Park in Historical Fort Langley.  This is known as the birthplace of British Columbia.  The town was so charming, like out of a wonderful book, and was located right on the Fraser River.  I spent one-on-one time with each of the kids in the town (any reason to keep going back) and Ken and I enjoyed a latte on morning before school.  A really nice and peaceful place to spend a few days.