Posted by
whalerho

| Posted in Uncategorized | Posted on 02-07-2008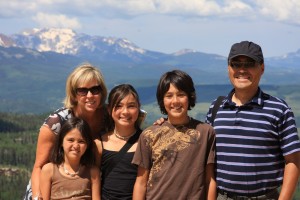 When we started coming down from the mountain, we discovered

Ouray, or "Switzerland of America".

Ouray is this amazing little town at the base of these dramatic snow capped mountains. "This is where I want to live" I exclaimed as it felt like "it". Living there in winter would be a different story however and I don't know if I could make the cut for fitting in as a mountain woman.
Our campground, "Ridgeway State Park" was a mere 15 minutes from Ouray so we made a couple trips into this wonderful town. In fact, Ken and I celebrated our 14th wedding anniversary in Ouray. Instead of choosing the usual "cute" place to go for dinner, Ken and I picked the place where the locals go. It was fantastic and packed with locals and visitors alike. What a great bunch. Down to earth and friendly. Yes, this is the place I would love to live. . .in the summer that is!
One day we all went to the Hot Springs Park in Ouray. The kids had a great time goofing around in these hot pools.
Our camp spot at Ridgeway State Park was great. Definitely a popular destination as it has a huge reservoir with boating and even a great little swim beach. There was a bike path that went around the whole entire reservoir. Hobie celebrated his 2nd birthday here and we decided to let him go for a swim in the lake to go after Andrew who was fishing from his float tube. After his swim, being thirsty, he drank some lake water. Not a good idea. We have been dealing with his, shall we say, "delicate constitution" even since and hope to have him back to normal soon!
While at Ridgeway State Park, we took a day trip to Telluride. How cool is this town?? We started by taking their free gondola rides to the top of a mountain and then down to the town of Mountain View. A beautiful river runs all through Telluride and its streets are full of "she she" art galleries and restaurants. Definitely a big ski destination as the mountains where full of ski lifts and condos. Ken, Nikki and Andrew rode there bikes for an hour while Poohnut and I hit the shops. Nice to have one on one time with each of the kids.