Posted by
whalerho

| Posted in Uncategorized | Posted on 22-03-2009
When we met a full time RV family in October at Harris Beach Oregon, little did we know that chance meeting would add a dimension to our RV adventure we couldn't have dreamed of. Meeting Roch, Helen, Ariane and Myrina turned out to be great in so many ways. We have shared  many wonderful memories with this family and we hope to continue our friendship way into the future. Together, our kids added up to five and they became a tight happy unit. They would take walks together during the day and evening around the campgrounds, tell stories, watch movies, play in the ocean and just laugh the days away. The bond they formed is strong and we all hope it will last their lifetimes.
While the kids stuck together like glue, the adults were somewhat "childless" and had time to enjoy some adult time.  The four of us relaxed over many a "happy hour", shared a special Valentine's double date dinner at "Roosters" and enjoyed many walks in Melaque after dinner. When you share a similar perspective on life – that's it's short and you only have so much time with your kids before they head off to college – it's a great starting point for meaningful conversations. It was neat to see Roch fully embrace the Mexico lifestyle and tuck away his watch (never has this happened before) and wear a pair of flip flocks (never has this happened before either!).   Helen was such fun and we really enjoyed her stories. Both Helen and Roch have been in the Canadian military for many years and it was so interesting to hear their stories of trips to the Congo, Afghanistan and many other countries. We always felt safe alongside these two walking the streets!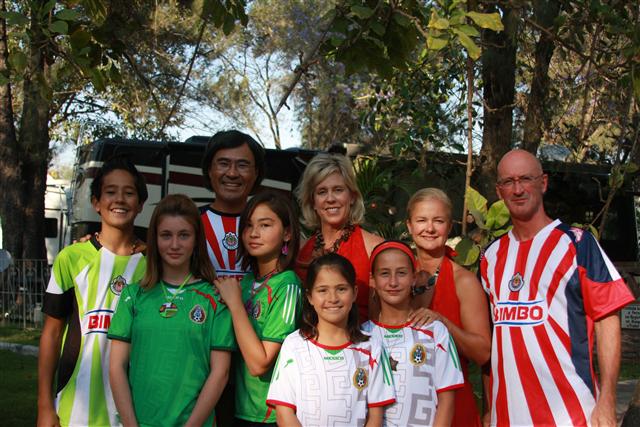 We hope to meet again with "The Canadians" during our trip through the Midwest this Spring. Thank you Canadian family for adding such so much to our RV adventure!